Custom Assemblies


Altech has made things even easier by making it possible for you to order custom designed assemblies with a single part number or, for that matter, your own drawing number. No need to order a multitude of parts, no more unwanted inventories of bulk-packaged accessories.

Send Altech your drawings or specifications, and our experienced staff will build, mark and ship your assembly, ready for installation. Our on-staff engineers will also assist you in reviewing your drawings.
It's that easy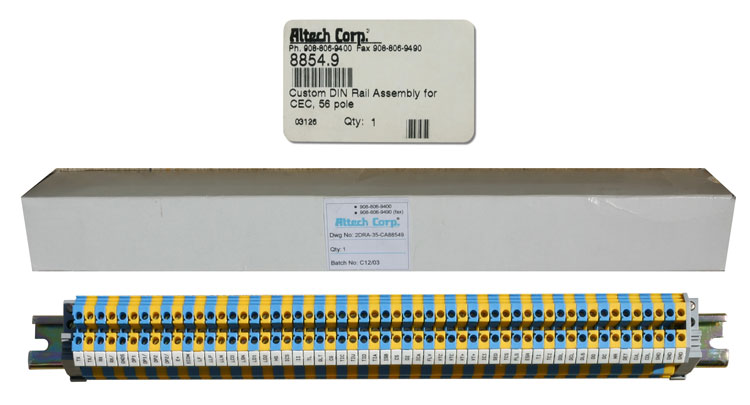 Some samples.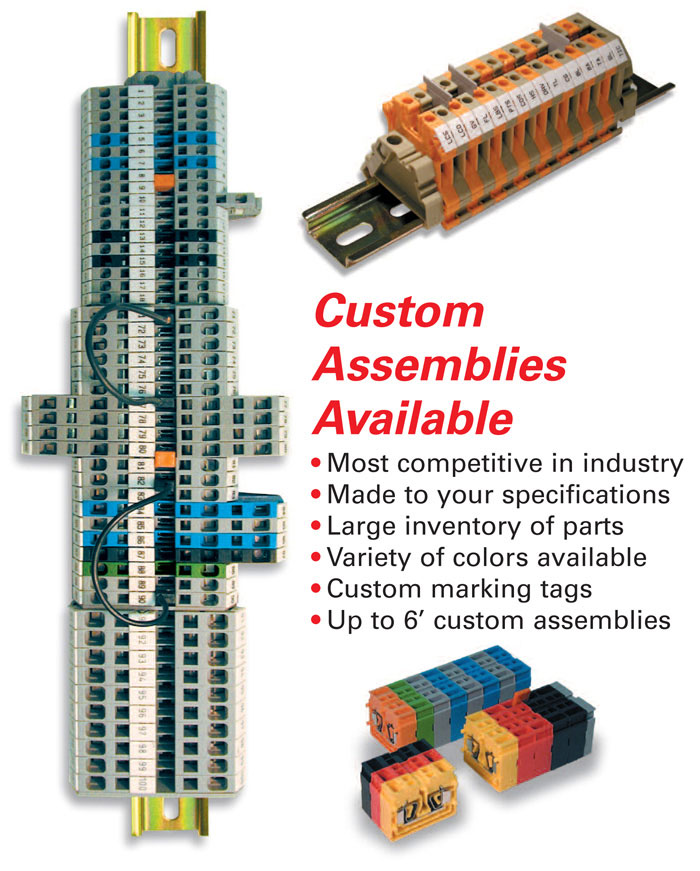 INTERFACE MODULES
For more on Industrial Relays click here.
Expand the capabilities of logic systems or link incompatable systems with Altech interface and electronic modules and carriers. These DIN rail or panel mounted printed circuit board modules, subsystems and carriers give design flexibility, simplify panel layouts, and reduce maintenance and downtime.
Altech's compact interface modules provide a flexible, cost effective transition from Sub-D, Ribbon Cable and other connectors to terminal blocks.
Altech's electronic modules include Diode, Fuse, Varistor, Optocoupler (I/O), Relay, power supplies and custom modules.
If your needs go beyond our comprehensive range of standard interface and electronic modules, Altech can custom design a module to meet even the most sophisticated requirements.
Modules are supplied completely assembled with ready to wire screw-cage terminal blocks in an extruded track. The track can be mounted on 35 or 32mm DIN Rail or can be panel mounted. Select individual components and mount your own electronic boards with Altech mounting tracks.
---
Connector-To-Terminal Block

Compact and reliable transitions between high density connectors and high quality screw-cage clamp terminal blocks.

FBK Ribbon Cable, up to 64 poles
Subminiature - D, up to 50 poles

---

Monitoring,Protection

Special purpose components connected to screw-cage clamp terminals.

M, LED Indicator Module
FM, 5x20mm Fuse Module
SSM, Surge Suppressor

---

Diode Modules & Component Carriers

Use our Diode Modules to build lamp test circuits, decouple signals, etc. Mount your own components into our Component Carriers (supplied without electronic components). Or, tell us what you need and we'll install it for you.

| | |
| --- | --- |
| | |

DM Diode Modules have series connection 1A or 3A diodes, and 1A diode gates with common cathodes or anodes, providing commonly used diode arrangements
BSM Component Carrier has factory installed fork-and eyelet soldering posts in each series trace
CCA Component Carrier consists of a printed circuit board with four in-line and two bus-connection through-holes to solder pads in each trace, complete with terminal blocks. Type of carriers:



RC Carriers for miniature relays, with isolated or bussed coil power or ground.

DIP-C, Dual In-Line Package
socket carrier with 3A rated sockets.

I/O I, Input and Output module mounting carrier has isolated positions (no bussing, each module circuit is self contained and isolated from adjacent circuits).

I/O B, Input and output module carrier, with bussed logic-side power.

OSC, Octal Socket Carrier accepts a variety of 8 and 11 pin round socket relays.

BSM Component Carrier has
factory installed fork-and-eyelet
soldering posts in each series trace.

CCA Component Carrier consists of printed circuit board with four in-line and two bus-connection through-holes to solder pads in each trace. Complete with terminal blocks.

---

Digital I/O Modules

Solid State Relay I/O Modules
35 or 32mm DIN Rail

Solid State I/O Modules are used to switch both AC and DC loads as well as sensing AC or DC control voltages for controlling the input to a PLC. The input is isolated from the output via an optically coupled circuit in the device itself. Since there are no moving parts, the device will have a virtually unlimited life.

Altech I/O Module assemblies can be supplied in either an isolated or bussed configuration as shown on page 28.

Features:

Wide range of Solid State I/O Modules to choose from
LED Indicators, Fuse Protection
Input or Output Modules can be mixed & Matched on the same board
Custom installed I/O modules available upon request
Most plug-in modules are UL Recognized, CE mark.
Bussed or isolated
up to 16 channels on single module
Custom designs can be accommodated!

---

Miniature Relays

Traditional relay and safety relay modules in a high density package.

Protect equipment
Provide insulation
Control motors, solenoid and valves
Safety relays for emergency stop, safety gate and two-hand stop

---

Custom Interface Modules

If your design or application requires more functionality or features than our standard product, Altech offers complete engineering, prototype and production services for custom modules.

Our staff has the ability to take your design or requirements and manufacture your custom module. Custom module production generally includes engineering, PCB layout and prototypes, packaged in Altech extrusions for mounting on panels or DIN Rail. In many industrial control systems, customized designs are the solution for many problems.

Altech provides a quick turnaround and competitive solution to your problem.

Application Assistance

Modify a standard product
Help define a new product

Engineering Capability

Use of latest CAD system
PCB layouts completed promptly
Prototypes available two weeks after
PCB layout approval

Manufacturing Capability

Complete in-house manufacturing
ISO 9001 Certified

Minimum Quantities

25 piece minimum for custom quotes
Quotation provided at no cost

Altech Benefits

Fast turnaround due to in-house capability
Highly competitive in-house manufacturing
Use of Altech components (blocks, extrusions, connectors)

---

General Purpose / Interface Relays

AC or DC coil I-Series direct DIN-Rail mountable with screw terminals for PLC applications
M, G, L plug-in relays for DIN-Panel mountable sockets, with lockable test buttons and mechanical flag (M and G)
LED version available
Diode module for M-Series and G-Series available

---

Pluggable Slimline Relays

At only 6.2mm thickness the RS series Relay module features a slim Din Rail mountable interface solution. The modules have a plug in construction and are available with or without the relay. The built in LED indicates the relay energizing state. The relay features a SPDT configuration and a maximum switching current of 6A. It is available with several standard coil voltages from 5VAC/DC up to 230V AC/DC.

There is a provision for fitting pluggable jumpers which reduces the wiring time. The modules have screw terminals with finger protection for wire termination and offer an IP 20 protection rating. The relay has an IP67 protection rating. Both the relay and the module are UL recognized.

---
9-SubD

15-SubD


25-SubD


37-SubD


50-SubD