Versatile, compact enclosures are ideal for applications with space constraints and for mounting within large international style enclosures with 45mm (1.77 in.) cutouts, such as Altech's EK and AK series nonmetallic enclosures. Small to medium in size, KU4000 enclosures offer 8 to 64 terminals for field wire connections. Pressure plate or spring cage terminals are standard. The KU4000 series are equipped with double level terminals which provide a maximum number of external connections in a minimum amount of space. Standard enclosures are supplied as kits, containing the base,cover and the maximum number of terminals.
MATERIALS
Housing
Housing Shell: Polycarbonate, 10% Glass Filled
Base: Polycarbonate, 10% Glass Filled
Terminals
Terminal Pins: Tinned Steel
Pressure Plate: Chromated Steel
Terminal Screws: Chromated Steel
Spring Clamps: Stainless Steel
Temperature Rating: 110°C (230°F) UL94VO
Standard Color: Light Gray
PROTECTION
KU4000 enclosures have an IP20 rating (finger protected) and meet VBG4 and other European accident prevention requirements.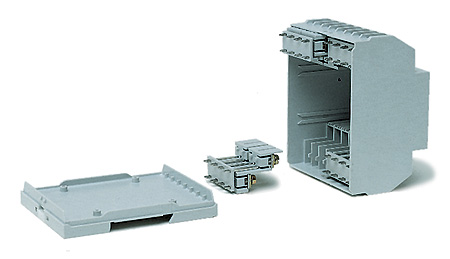 CONSTRUCTION
The KU4000 series housings are supplied as kits. Each kit consists of a flat base, a housing cover and 8, 16, 24, 32, 48 or 64 terminals. Double level terminals keep the enclosure size to a minimum, and yet, due to the innovative housing design, relatively large components can be mounted inside.
The terminals are machine solderable and have straight or right angle pins, depending on enclosure type. We can also supply enclosures with fewer than the maximum number of terminals, please contact us with your requirements.
The KU4000 series are available in five widths, and are supplied with terminals in three standard positions:
Terminals on top and bottom
Terminals on one side only
Terminals at both ends, the center area has no terminals.
Cover plugs are available as accessories and can be plugged into unused screw holes and wire entries. Plugs are offered as sets, consisting of one screw-hole cover and one wire entry cover.
Integral printed circuit board guides are molded into the housing cover to save time when inserting boards. They also prevent misconnections and keep the boards from moving.
Printed circuit boards can be mounted in three ways:
Horizontally, parallel with the base
Vertically, perpendicular to the base
Vertically, parallel with the DIN rail
One large board can be mounted against the base of the enclosure (parallel with the base) using terminals with straight solder pins. Boards can also be mounted vertically (perpendicular to the base) by using terminals with right angle solder pins, or vertically (parallel with the DIN rail) by using a wire jumper connection.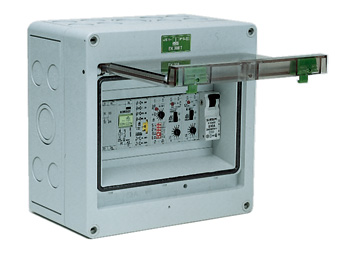 The face of the cover is 45mm (1.77 in.) high, and can be mounted into standard DIN distribution systems which have 45mm cutouts like Altechs EK and AK series of industrial enclosures. Mount the KU4000 enclosures together with circuit breakers and other DIN rail mount devices which also meet the 45mm standard. Removal of the housing cover is possible for service and repair after disconnecting the wires.
TERMINALS
Pressure plate terminals are standard for the KU4000 enclosure and ensure a vibration proof connection. The pressure plate, which is captive to the terminal screw, automatically rises when the screw is loosened. One or two wires of equal or different sizes up to 2.5mm2 (14 AWG) can be terminated in each terminal. The grooved corners of the pressure plate ensure positive retention of the wires. The flat bottom of the terminal extends to the inside of the enclosure and provides the terminal-to-board connection. The terminal screws can be turned by a flat tip or a #2 Pozidriv screwdriver.
The KU4000 series is also available with spring cage terminals. The terminal is opened by appling pressure with a screwdriver to open the clamp. Once the wire is inserted, the screwdriver is removed, creating a vibration proof connection to the wire.
TERMINAL-TO-BOARD CONNECTIONS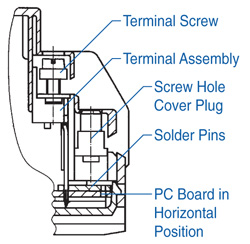 The KU4000 series offers several fixed terminal-to-board connection possibilities.
Wire Jumper connections can be made by soldering a wire jumper between the center hole of the right angle solder pins and the printed circuit board(s). Upon soldering, the board is installed into the enclosure complete with terminals and other components.
All KU4000 terminals have Machine Solderable Pins, which can be machine soldered to the board(s) in the same step as the other components, saving assembly time.
MOUNTING
The KU4000 enclosures snap onto standard 35mm DIN rail or can be panel mounted. Mount one or several enclosures together, or mix them with other DIN rail mounted devices such as terminal blocks, circuit breakers, etc. The choice is yours.
MARKING
The KU4000 series have large marking areas on the front of the cover.
ACCESSORIES
Cover Plugs for Screw Hole and Wire Entries
Screws for Mounting Printed Circuit Board
Pull-Out Panel Mounting Tabs
35mm DIN Rail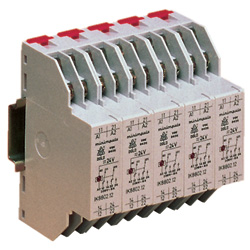 CUSTOMIZATION
We can supply the KU4000, series enclosure kits with the exact number of terminals to meet your requirements. Enclosures can also be customized with cutouts and holes. Custom colors and special markings are also available.