The KO4300 Series Enclosures feature high density double level terminals making them ideal for many electronic applications. They are small to medium in size ranging from 16 to 64 termnals. There are 4 widths available each having a short and tall version available. Terminal styles are available in fixed scew terminals, pluggable screw terminals or pluggable spring clamp terminals.
MATERIALS TEMPERATURE RATINGS:
Housing Shell: Polycarbonate, 10% Glass Filled Housing: 115°C (239°F) UL94VO
Terminal Housing: Polyamide, 40% Glass Filled Terminal Housing: 290°C (554°F) UL94VO
Terminal: Tin-plated Steel (spring terminal: stainless steel) Standard Color: Light Gray
PROTECTION
KO4300 series enclosures have an IP20 rating (finger protected) and meet VBG4 and other European accident prevention requirements.
CONSTRUCTION
The KO4300 enclosure series housings are supplied as kits. Each kit consists of a housing base, terminal cover side parts, terminal blocks and a front plate. The double level terminal design keeps the enclosure width to a minimum freeing valuable DIN rail space. The terminals are machine solderable with right angle pins. Integral printed circuit board guides are molded into the housing base to help with proper board insertion and containment. Boards are mounted vertically in the enclosure, perpendicular to the DIN rail.
TERMINALS
Rising clamp screw terminals are used with the KO4300 series enclosures. Wires to be terminated are squeezed between the bottom of the rising clamp and the terminal strip for reliable, gas-tight connections. The terminals can be machine soldered to the board in the same step as the other components to save time and labor. All terminals have funnel shaped wire openings to eliminate wire fraying. The terminal screws can be turned with a flat tip or a #2 Philips screwdriver.
Pluggable screw clamp and spring clamp terminals are also available. A 3mm wide flat blade screwdriver should be used to open the spring terminal for wire insertion.
MOUNTING
The KO4300 series can easily be mounted on standard 35mm DIN rail by means of the integral mounting foot and DIN clip.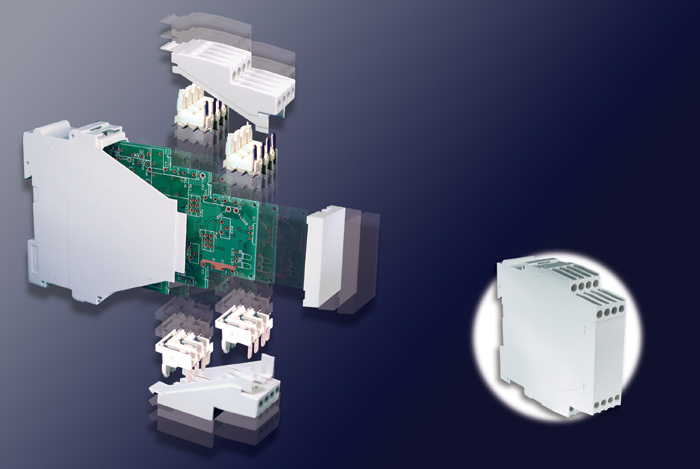 CUSTOMIZATION
Many custom options are available for the KO4300 series enclosures. Some of the available options are:
Partial terminal loading

Side ventilation slots

Internal/External bus connections

Machining of custom holes

PCB grounding to the DIN rail

RJ45 and DB9 openings in front plate