Economical, compact KO4070 enclosures are supplied as easy to assemble kits. They are ideal for housing I/O circuits, relays, timers and other small devices. Each kit consists of two housing half shells and 4 to 16 machine solderable terminals with standard or extended length pins.
MATERIALS
Housing Shell: Polycarbonate, 10% Glass Filled
Terminal: Tinned Bronze
Terminal Screw: Chromated Steel
Temperature Rating:
125°C (257°F) UL94 VO
Standard Color: Light Gray
PROTECTION
KO4070 enclosures have an IP20 rating (finger protected) and meet VBG4 and other European accident prevention requirements.
CONSTRUCTION
The KO4070 enclosures consist of two housing shells that snap together, and sectional, snap-together terminals. The maximum preassembled number of terminals are part of the enclosure kit. Potting is not recommended. Enclosures with removable center cover sections are available upon request.
BOARD PLACEMENT
Each enclosure can accept two boards, each up to 1.5mm (.0625 in.) thick, inserted vertically (parallel to the DIN rail) facing the terminals. These boards can be machine soldered to the terminals. Enclosure types KO4074 through KO4079, accept larger boards that can be screwed to the sidewalls of the housing shells (vertically, perpendicular to the DIN rail) using molded-in standoffs and 2 screws. Boards mounted on the sides can be 1mm (.04 in.) thick and require a wire jumper connection.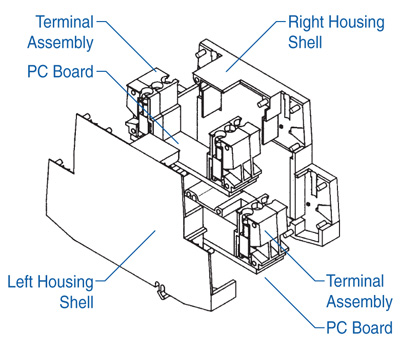 TERMINALS
Box clamp design terminal blocks are used with the KO4070 series enclosures. Wire(s) to be terminated are squeezed between the bottom of the clamp and the busbar for reliable, gastight connections. The terminal blocks can be machine soldered to the board in the same step as the other components to save time and labor. Enclosures with extended length pins are available to increase enclosure cavity for large components.
All terminals have funnel shaped wire openings to eliminate wire
fraying. The terminal screws can be turned with a flat tip or a #1 or #2 Philips screwdriver.
MOUNTING
The KO4070 series have integral mounting feet that snap onto standard 35mm DIN rail. They cannot be panel mounted.
MARKING
Silk screen or attach label to the face of the enclosure.