The K70 series enclosures are small to medium in size and offer cost effective solutions for many applications.
They can accommodate 8 to 32 terminals for field wire connections. Pressure plate terminals are standard with both the fixed and pluggable versions.
MATERIALS
Housing
Housing Shell: Polycarbonate, 10% Glass-filled
Housing Cover: Polycarbonate, 10% Glass-filled
Terminals
Pressure Plate: Chromated Steel
Terminal Screw: Chromated Steel
Connector Contact: Tin Plated Bronze
Temperature Range: 125°C (257°F) UL94VO
Standard Color: Light Gray
PROTECTION
K7O enclosures have an IP10 rating (hand protected). By using optional terminal covers the protection rating can be increased to IP20 (finger protected). VBG4 and other European accident prevention requirements are met.
CONSTRUCTION
The K70 enclosures are supplied as kits.
Each kit consists of a housing shell and a snap-on cover, complete with integral terminals and terminal-to-board connection provisions. Integral printed circuit board guides are molded into the housing shell to save time when inserting boards, to prevent misconnections and to keep the boards in place. Integral tabs on the bottom of the shell further help to hold the boards in place and eliminate lateral movement and warpage.
Printed circuit boards can be mounted in three ways:
Vertically
Horizontally
Behind the Front Cover
Boards can be placed vertically (perpendicular to the DIN rail) and/or horizontally (parallel with the DIN rail). Enclosures with plug-in covers can accept an additional board mounted directly behind the front cover. This board is ideal for mounting indicating devices such as LEDs, LCDs for monitoring, switches and potentiometers for setting and adjusting purposes. The housing cover snaps onto the housing shell. Two tabs lock the cover firmly in place. Removal of the cover is possible for service and repair. Potting is possible.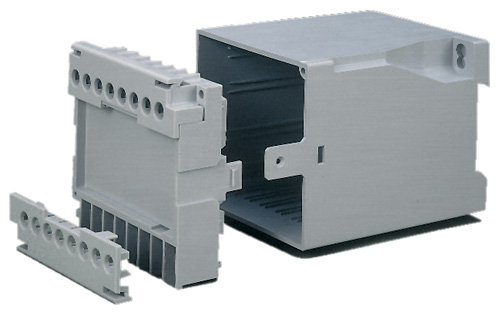 The K70 housing covers have external and internal barriers between terminals to increase creepage distance and to help prevent accidental touching of live potentials that may be present. Optional terminal covers that decrease the size of the opening are available as accessories.
TERMINALS
Pressure Plate terminals with either fixed or pluggable terminal-to-board connections are offered in the K70 enclosures. The pressure plate, which is captive to the terminal screw, automatically rises when the screw is loosened. One or two wires of equal or different sizes up to 2.5mm2 (14 AWG) can be terminated in each terminal. The grooved corners of the pressure plate ensure positive wire retention. The flat bottom of the terminal extends to the inside of the enclosure and provides the terminal-to-board connection. The terminal screws can be turned by a flat tip or a #2 Phillips screwdriver.
Upon request, terminals can be loaded in selected positions only.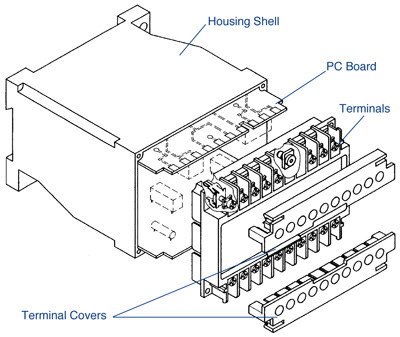 TERMINAL-TO-BOARD CONNECTIONS
The K70 series offers fixed and pluggable terminal-to-board connection possibilities.
Fixed Connections
Fixed terminal-to-board connections can be made by Wire Jumper, Fast On tabs or Machine Solderable Pins.
Fast On tabs, (2.8 x 0.8 mm) accept industry standard Fast On connectors crimped onto wire jumpers.
Wire Jumper connections can also be made by soldering a wire jumper between the center holes of the Fast On tab and the printed circuit board(s).
Machine Solderable Pins (offered only with type K7022.5C) can be removed from the enclosure and machine soldered to the board in the same step as other components, saving assembly time.
Pluggable Connections
Pluggable terminal-to-board connections are made by using Card Edge connectors. They are an integral part of the covers of K7075P, K70100P and K70150P and plug directly onto the board(s). Solder Pins are also provided in these enclosures for terminal-to-board connections when mounting an additional board directly behind the front cover. A Wire Jumper can be soldered to these pins as well.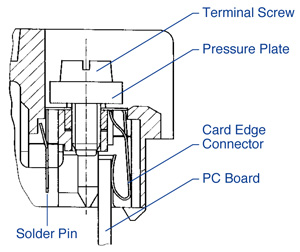 For better retention, the plug-in type covers have captive screws at the corners that insert into brass bushings, molded into the housing shell. The pluggable versions are ideal whenever quick connections and replacement are important. They also reduce the danger of misconnected wires and downtime.
MOUNTING
The K70 Enclosures mount easily by snapping onto standard 35mm DIN Rail. Many can also be panel mounted using corner mounting holes which accept two M4 or M5 (#6 or #10) screws. These mounting holes are molded into two corners of the housing shell base and do not increase the height or width of the enclosure, thus insuring a compact, high density arrangement when multiple enclosures are installed adjacent to each other. Enclosure types K7022.5A, K7022.5B and K7022.5C have two integral pull-out tabs on the base of the enclosure for panel mounting.
MARKING
The K70 enclosures have an area on the front of the cover for marking and mounting of components such as switches, potentiometers, LEDs or LCD indicators. Custom imprinted plates can be inserted as well, allowing imprinting of plates separate from the enclosure, reducing cost and delays.
ACCESSORIES
35 x 7.5 mm DIN Rail
Terminal Covers
Pull-Out Panel Mounting Tabs.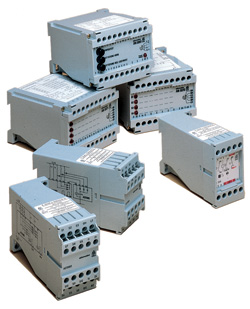 CUSTOMIZATION
Enclosures can be customized with cutouts and holes for potentiometers, switches, LEDs, LCDs and other devices. Using state of the art machining, we can punch, drill or cut to your most exacting specifications. Custom colors and special markings are also available. Please let us know what your requirements are.