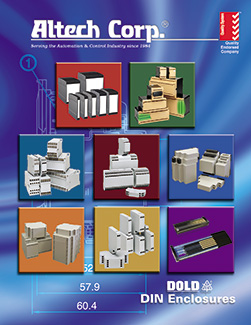 Click here for entire PDF catalog
or e-Catalog below.
The Altech Advantage
Build or maintain your competitive edge in the world markets. Enhance the value of your products and devices by packaging them attractively with enclosures from Altech. The applications are limitless. Our compact DIN enclosures are ideal for housing electrical, electronic and electromechanical devices including relays, sensing and monitoring devices, timers, transducers, printed circuit boards and more.
Altech's line of DIN Enclosures are manufactured by DOLD, a company well know in Europe for its quality DIN Enclosures and Safety Relays. They offer the most comprehensive selection of DIN enclosures available. These versatile housings are economical, easy to assemble and install. They provide protection and integral, ready-to-wire terminals in one attractive package at a level of quality that meets or exceeds national and international standards for performance and safety.
A wide Range of Sizes and Designs, Choice of Cover Styles, Terminal-To-Board Connection Options and 35mm DIN Rail or Panel Mount configurations are available. Only flame retardant, maintenance free materials are used for safety, and to insure that your control devices look good for many years to come.
Customizing is easy. We can cut special holes and cutouts for operating, setting or indicating components that you may wish to install into the front panel. Terminals can be marked for quick identification and efficient field wiring. Instructions and custom markings can be imprinted. Our enclosures can even be molded in custom colors and custom configurations (OEM quantities). Whatever your requirements may be, we will do our best to help you meet them.