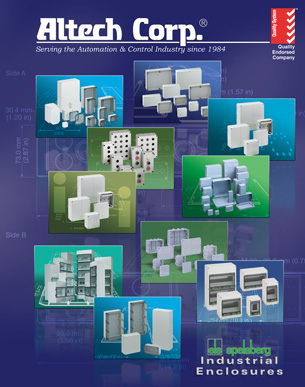 Industrial Enclosures

CLICK FOr More Information
Altech offers a broad selection of non-metallic and aluminum Industrial Enclosures to meet your diverse design requirements.
Altech enclosures provide needed protection in a functional and creative way while enhancing the value of your product with their appealing design. These enclosures will meet the most demanding requirements for housing and protecting components and devices in light to heavy duty industrial environments. They are made of corrosion proof, impact and chemical resistant, non-flammable and halogen free materials so you can rest assured when you select an Altech enclosure.
Choose from our 10 unique series to find the perfect enclosure to secure and protect your control components, DIN rail terminal blocks, circuit breakers, switches, meters, printed circuit boards, instruments and sensors. Then check out our vast array of accessories to help complete your product assembly.