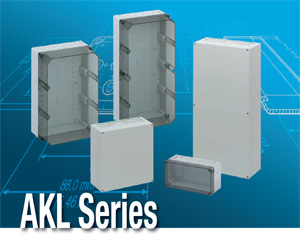 Click here for
AKL SERIES CATALOG PAGES
AKL Series
AKL Enclosures are very similar to their door bearing cousins, the AKII. The main feature that differentiates this family from the AKII is the configuration of the covers and bases.
The AKL Series, like the AKII Series, features aesthetically pleasing smooth exterior walls. Knockout patterns are on the inside, with identical tops and bottoms.
The AKL Series offers larger sizes, ranging from 150x300x142 mm (5.91x11.81x5.59 in.) to 600x300x210 mm (23.62x11.81x8.27 in.). Some models feature low or high covers, available in gray or tinted transparent. Standardized dimensions allow for joining multiple AKL Enclosures or combining AKII and AKL Enclosures with a common combination kit to create larger enclosure combinations.
As with the AKII, the AKL family features the same 150 mm (5.91 in.) center to center DIN rail spacing. The standard ingress protection level when using appropriate strain reliefs is IP65.