The versatile KU4100 series features a compact design with different terminal configuration options. They are available in six widths with double level terminal locations. Terminal configuration options include blank enclosures with no terminal openings, fixed PCB terminals and pluggable PCB terminals. The 45mm high face of the enclosure allows for mounting in larger international style enclosures such as Altech's EK and AK Series nonmetallic enclosures.
MATERIALS
Housing
Housing Shell: Polycarbonate, 10% Glass Filled
Base: Polycarbonate, 10% Glass Filled
Terminals
Housing: Polyamide
Terminal Pins: Tinned Brass
TEMPERATURE RATING:
115°C (239°F) UL94V0
Housing: Light Gray Cover with Black Base
PROTECTION
KU4100 enclosures have an IP30 rating, IP20 for terminal openings, (finger protected) and meet VBG4 and other European accident prevention requirements.
CONSTRUCTION
The KU4100 enclosure series housings are supplied as kits. Each kit consists of a flat base, a housing cover and terminal sets where applicable. The terminals are set on two levels to maximize space. The terminals are machine solderable. Integral printed circuit guides are molded into the cover for proper board insertion and containment. Multiple boards can be mounted in each enclosure, usually 2 PCBs are used with the terminals and one additional PCB can be used for display or control elements in the enclosure front.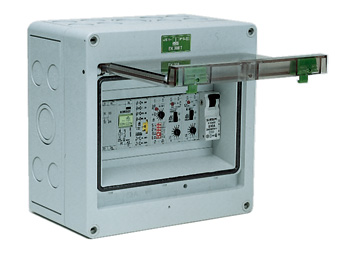 The face of the cover is 45mm (1.77 in.) high, and can be mounted into standard DIN distribution systems which have 45mm cutouts like Altechs EK and AK series of industrial enclosures. Mount the KU4100 enclosures together with circuit breakers and other DIN rail mount devices which also meet the 45mm standard. Removal of the housing cover is possible for service and repair after disconnecting the wires.
TERMINALS
There are 4 options available; no terminal openings, fixed PCB terminals, pluggable PCB terminals and high current terminals. The terminal blocks are all machine solderable.
The option of no terminal openings allows for custom openings to be made to accommodate alternate connector types.
Fixed PCB terminals are standard screw cage clamp style terminal blocks. Terminal covers are available for the fixed PCB terminal version to cover unused terminals. The terminal cover is a 12 poles strip that is breakable into individual poles. It snaps onto the enclosure covering the screw hole and wire entry areas.
Pluggable PCB terminals feature male pin headers and female screw cage clamp plugs that can be plugged/unplugged. Power source must be disconnected before plugging/unplugging terminals.
High current terminals feature rising clamps where the wire is clamped between the clamp and the terminal strip.
MOUNTING
The KU4100 series can easily be mounted on standard 35mm DIN rail by means of the integral mounting foot and DIN clip.
CUSTOMIZATION
We can supply the KU4100 series enclosures with many custom options including:
Partial terminal loading
Enclosure bus connections
Ventilation Slots
Machining of custom holes