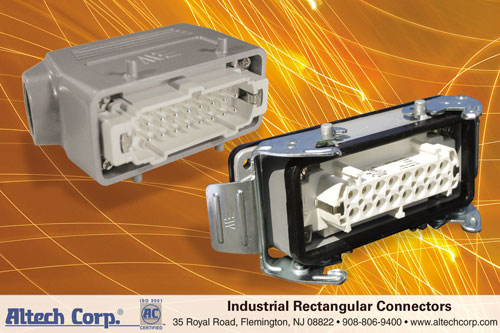 ALTECH® INDUSTRIAL RECTANGULAR CONNECTORS
ENABLE RELIABLE MECHANICAL AND ELECTRICAL CONNECTIONS
New Altech® industrial rectangular connectors have been engineered to enable reliable mechanical and electrical connections for a wide range of data, control, signal, and power applications. This new family of connector products is offered in a variety of pole configurations, housings and hoods (metric or NPT), and with inserts ideally designed to promote proper coupling.

These rectangular connectors are available with positive male-to-female connections in 3-48 pole versions with ratings up to 16A. They integrate strong locking levers for a secure fit and feature tightly sealed gaskets maintaining IP 65 for coupled connectors. All the connectors conform to relevant European and UL standards.

The inserts are manufactured from self-extinguishing thermoplastic (UL94-VO) for optimized service in temperatures ranging from -40º C to 125ºC. They are numbered and polarized to simplify identification and ensure proper compatibility. Inserts additionally are interchangeable to provide flexibility both for bulkhead-to-hood and hood-to-hood connections.

Complete assemblies can be augmented with strain reliefs, Polyflex® tubing, or otherwise customized to satisfy the most demanding application requirements.
Click here to go to more information and catalog.
Contact Dan Schuster, Altech Corp.®, 35 Royal Road, Flemington, NJ 08822-6000 USA.  Phone: 908-806-9400; Fax: 908-806-9490.  Email: info@altechcorp.com